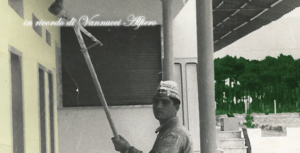 VA di Vannucci Antonio has begun its activity in the early 50s, specialising in civil and industrial painting, prestigious decorative finishing for interiors and anti-mould treatments. VA has established its prestige in the decorative industry nationwide by working with international customers in the district of Lucca, especially in Viareggio, Forte dei Marmi and Pietrasanta, as well as in the broader Tuscany, Liguria and in the french riviera of Cote d'Azur.
Since the ,the company primary objective has been our customers and partners' satisfaction, achieved by accompanying them through the design, implementation and maintenance phase of any work commissioned. What distinguishes our company are the high quality services, accompanied by the products of the most prestigious brands in the industry, and executed by our highly qualified staff, motivated and passionate about this work. This is the secret of VA di Vannucci Antonio's business success.
Da sempre VA opera con l'obiettivo di soddisfare ogni cliente e collaboratore, accompagnandolo nella fase di progettazione, realizzazione e mantenimento di ogni lavoro commissionato. Ciò che ci contraddistingue sono i servizi di altissima qualità, accompagnati dai prodotti dei marchi più prestigiosi del settore, ed un personale non solo qualificato, ma motivato e appassionato di questo lavoro. Ecco il segreto del successo lavorativo di Va di Vannucci Antonio.